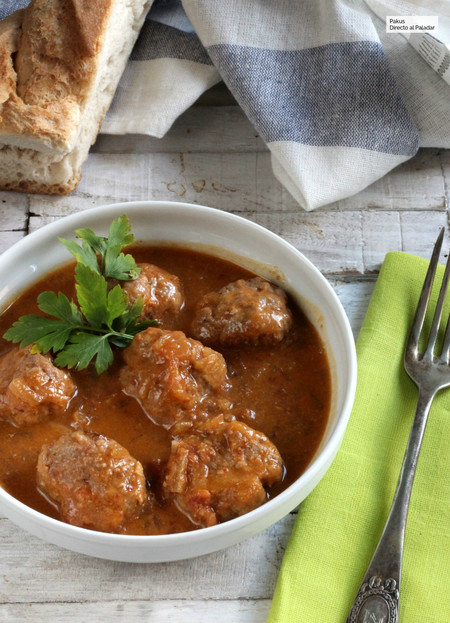 Ingredients
White bread 4 crustless slices in small pieces
Milk 6 tbsp
Beef mince 400g
Pork mince 400g
Garlic 1 crushed clove
Parsley a small chopped bunch
Egg 1 small
Paprika ½ tsp
Olive oil
Tomato Ketchup
Garlic 2 cloves, sliced
Red wine 200ml
Chopped tomatoes 2 × 400g tins
Paprika
STEP 1
Put the bread in a large bowl, tip over the milk, and toss until it has all soaked in.
STEP 2
Add the mince, garlic, parsley, egg, smoked paprika, and lots of seasoning. Mix together really well using clean hands and roll into small meatballs (you'll make about 32 from this mix).
STEP 3
Heat a little olive oil in a wide, shallow pan and brown the meatballs all over in batches. Scoop out once they're browned. Add a little more oil to the pan then add the sliced garlic and sizzle for a couple of minutes. Tip in the wine and boil until it is almost reduced to nothing. Add the tomatoes and smoked paprika, season, and bring the mixture to a simmer. Cook for 10 minutes, add back the meatballs then simmer for 20 minutes until the sauce is thickened and the meatballs are cooked through.
Albondigas are another fantastic tapas addition. Make sure to have some warm crusty bread to dip into the sauce.