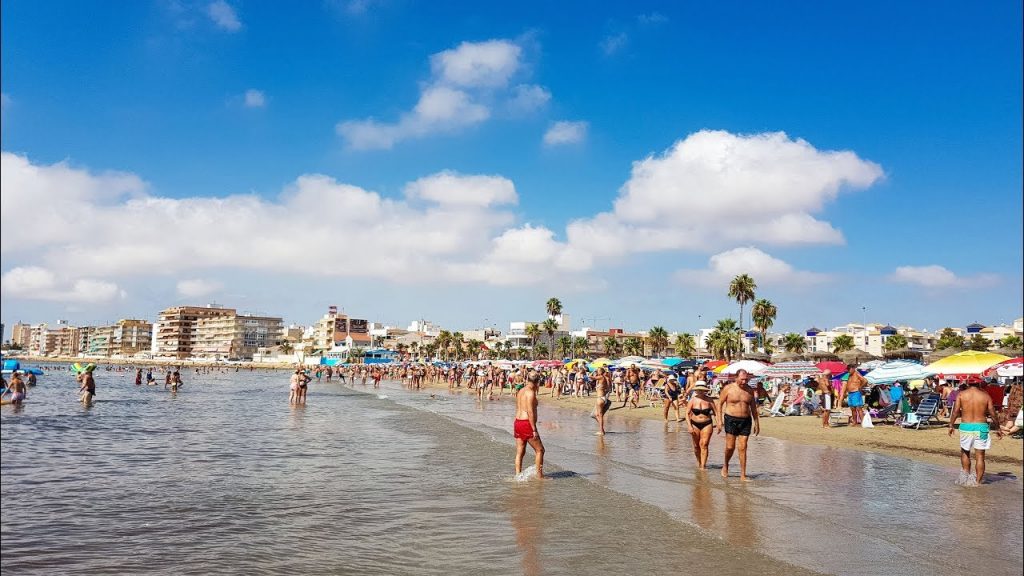 Torrevieja is a seaside town in the province of Alicante, Costa Blanca. This area is known for its stunning white sandy beaches and crystal clear blue waters and sunny weather, so what is the best beach in the area of Torrevieja?
Playa de Los Naufragos is a stunning beach in Torrevieja which is arguably the best beach in the religion. There is ample parking and the beach is clean and natural which makes it the perfect place to relax. The beach is pretty flat and this extends far into the water where the flat sands meet the shallow water so you can walk out very far into the sea. This makes it a great place for both families and couples to travel to as it is very safe and the waters are calm here.
The flat shallow sands mean there are hardly any waves in the area and so swimming is a delight in the calm shallow warm waters. Idyllic palm trees are sprinkled along the shoreline adding to the Mediterranean experience. Please do be warned that this beach can become very busy during summer holidays and weekends so make sure to get here early.
There are no sunbeds on this beach and so it was an unspoiled natural haven. There are a few small bars and restaurants located by the beach that will serve you while you soak up the sunshine on the golden sands and watch the calm blue sea lapping at the shore. This is definitely the best beach in Torrevieja and only a few minute's drive from any villa in Villamartin.