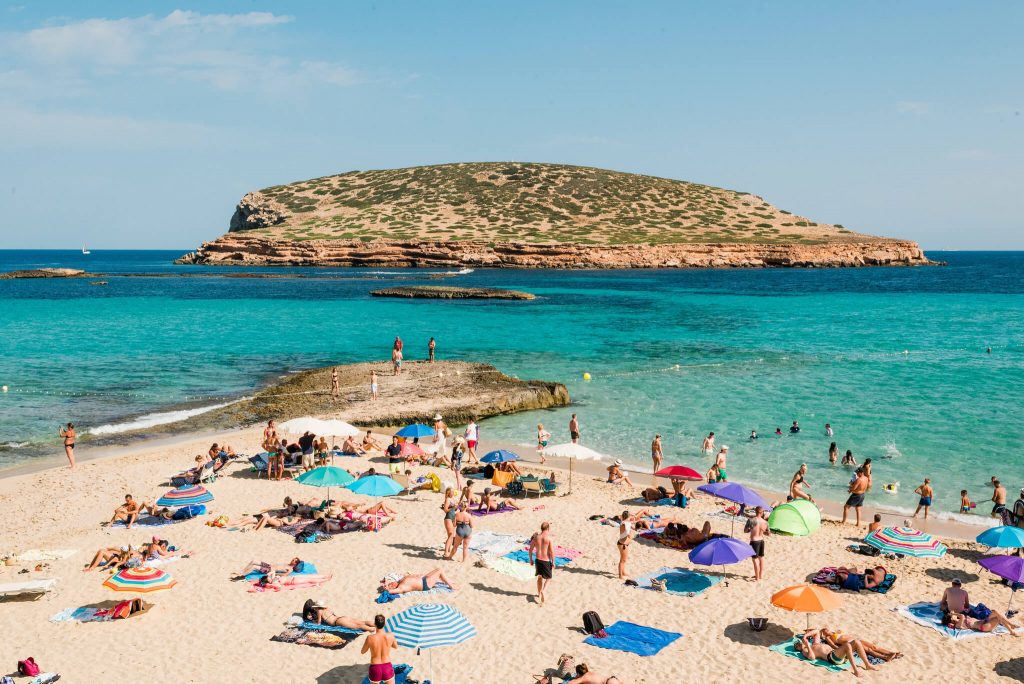 Known as one of the best beaches on the island of Ibiza, Cala Comte beach is a little smaller than the others on the island. Located in Sant Josep de Sa Talaia it sits on the South West of the Spanish island and is well worth the visit.
This beach boasts crystal clear warm blue water and fine white sand and is very clean. The beach is framed by rocky terrain and has many little coves to explore along the shoreline. Stunning views should be expected from this beach as you can look out to the small islands of S'Espartar Illa des Bosc and Sa Conillera that lay in the water just a little way out.
This place is known for its breathtaking sunsets where the burning sky meets the turquoise waters of the sea. Make sure to arrive early if visiting this beach especially in high seasons or weekends as it can get quite busy at times. It is also a good idea to take an umbrella and cover-ups with you as shade is not always readily available on the beach.
Soak up the sunshine on the beach and take a cooling dip in the clear sea before heading back up to the nearby road to grab a bite to eat in a local restaurant or cafe by the beach. Enjoy a relaxing evening with good food and good company before making your way back down to the beach to watch the sunset over the stunning scenery.
This is a stunning place that should not be missed when visiting Ibiza. It is known as the best beach on the island and it is so easy to see why.