Hi and Welcome to Travel Spain
Travel-Spain.co.uk is a travel blog exploring the tourist regions of Spain, its culture, places of interest, and of course food!
The writers live and have traveled throughout Spain and we would like to share our experiences and other information about this amazing country with you. Of course, we haven't been to every single place we'll tell you about nor eaten at every single restaurant, but we will investigate to the fullest and give you the best insight possible.
Along the way, we will pick up other travelers and bloggers to join our journey along the paths of Spain. We'll tell you facts about Spain you wouldn't know such as Spanish is the 2nd most spoken language in the world! Here's one, nudity in Spain is legal! And for all the dodgy characters, there aren't many tax inspectors, it's home to the world's oldest restaurant and every year in August at the La Tomatina festival they just throw tomatoes at each other. Spain is amazing and we want you to enjoy all we have and more!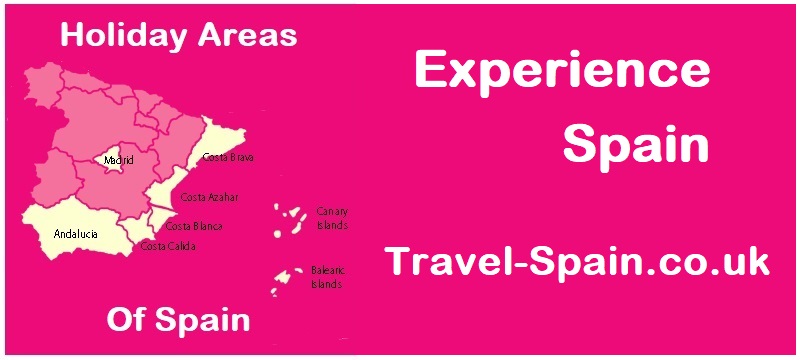 Spain has so many fabulous cities to visit, Madrid, Barcelona, Valencia, Marbella and many more. We'll give you tips on how to holiday in the Spanish cities as well as the small villages. How to stay safe and follow the laws and have one of the best times you can imagine.
The Costa Blanca is well known for its white sandy beaches attracting millions of tourists annually. The area reaches from Denia and Javea all the way past Torrevieja to the Orihuela Costa. There are numerous cities and towns famous around the world located here such as Benidorm, Alicante, Elche, Villamartin, Torrevieja, and more. The Costa Blanca is not only known for beaches but golf as well with many professional courses all around. The area is steeped in history as well with many tourist sights to visit. Nature reserves and wildlife parks are also in the area. With tourists from all nationalities, you can imagine the food available as well. Beaches, Golf, History, Great Food and plenty of Sun, it's easy to see why this is one of the most visited areas of Spain.
The Costa Calida or Balmy Coast is home to endless beaches and small coves for you to enjoy. Its beaches are known for their wellness and beauty especially the salt waters of the Mar Menor. The area is home to many great cities and one to visit is Murcia, walk along the river Segura or visit one of its many churches. The Mar Menor is a place to visit with its saltwater and therapeutic mud baths. You can also visit La Manga golf and its 5-star luxury resort. Play golf on one of the many courses. Terra Natura water parks are located in Aguilas, Cartagena and Murcia City. The Costa Calida also hosts many festivals each year and definitely worth a visit. The rugged coastline, beautiful cities, endless beaches, healing saltwater, and mud baths are just some of the reasons to visit Costa Calida.

The Costa Azahar, which means "the orange blossom coast" is located just north of Valencia. Its coastline is shorter than most at only 115 km with a mountainous backdrop. The area oast some of the best small towns to visit such as Alcossere, Peniscola, Benicarló, and Vinarós. The Costa Azahar host many festivals and medieval markets throughout the year. Valencia is one of the largest cities and a must-visit if in the area. Its Art and Cultural Science Centre is one of the most fascinating sights in Spain. The Costa Azahar is known and a laid-back and relaxed place to visit with its culture and landscape. The scenery is one of the most beautiful around and the beaches are simply stunning, especially in places like Peniscola with its medieval architecture along the beaches. Visit the Costa Azahar for a relaxed holiday but taking in the culture and its many beautiful sights to see.
Andalucia is one of the top areas of Spain to visit, Well-known cities such as Granda, Cordoba, Malaga, Marella, Cadiz, and Seville are located here. Andalucia is also home to Pablo Picasso as well Antonio Banderas. When Christopher Columbus sailed to discover America, that's right he departed from Huelva. An amazing point about Andalucia, with its mountains and coast, you can be snow skiing in the morning and sunbathing in the afternoon! The entire area has so much history, it would take years to see it all. The Alhambra Palace in Granada is amazing, and the old town o Seville is a must-visit. Go hiking in Cabo de Gata or jet-setting in Marbella at the marina. The largest Gothic cathedrals are located in Andalucia also. And let's not forget golf, the entire area is known also as the Costa del Golf with all of the professional courses. There is so much to say about Andalucia, you will just have to visit to see it all!
Costa Brava (Catalonia) is Spain's northern holiday coastal area reaching from Barcelona to the French border. Its rugged coastline reveals spectacular scenic walks along its coast-hugging paths, stunning seascapes, and unspoiled coves. Some of the best diving in Spain is here in the protected Illes Medes. Take a trip through the Costa Brava and find quaint Spanish villages nestled all along the coast. Visit Figueres and enjoyed the famed Teatre-Museu Dalí related to the surrealist artist Salvador Dalí. Other towns to put on the list are Roses, Blanes, and Tossa del Mar which is built around a medieval castle. Food in the Costa Brava is taken very seriously with many famous dishes as well the world's number one restaurant, El Bulli is located here. Culture, unspoiled views, history, amazing food, and simply relaxation makes the Costa Brava a great place to visit.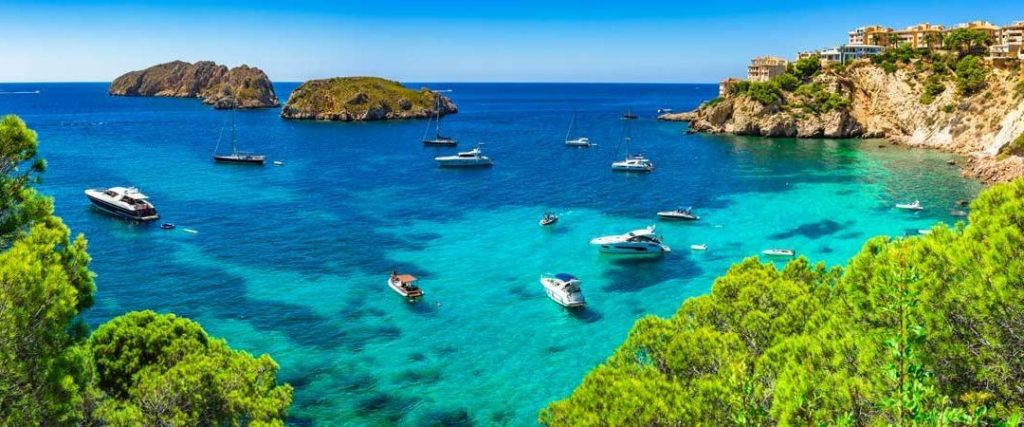 The Balearic Islands are what every holidaymaker dreams of. Beautiful beaches, stunning views, amazing food, and the climate is to die for! The islands are made up of four, each with their own culture and distinctions, Ibiza, Mallorca, Menorca, and Formentera. Mallorca is the largest of the four and one of the most visited places in Spain by tourists. It's known for its busy resorts, stunning beaches, and hidden coves to relax and spend the day. Menorca is also a very relaxed and chilled-out place to be. Beautiful beaches and small coastal villages are some of the main reasons people visit Menorca. Menorca is also home to burial buildings dating back to 1200 B.C. The smallest island, Formentera is totally opposite the others, with its natural culture. Artists spend much of their time here in the peacefulness of the island and also for those who wish to sunbathe clothes-free! Ibiza is different than the other islands. Although it has beautiful beaches and coves, it is also known as the party capital of the world! Thousand's of the younger generations visit Ibiza annually to party in the town centre in some of the world's largest nightclubs. With each island different from each other and in all offering just about anything you could wish for, it's no wonder the Balearic Islands are the main destination for tourists.
The Canary Islands are another hotspot for tourists flocking to Spain each year. Their diverse landscapes over the group of islands give tourists several different types of holidays to enjoy. There are seven islands in total in the group with Tenerife being the largest and El Hierro the smallest. The climate is near perfect year-round due to its position next to Africa. One o the main attractions is diving around the islands and the underwater photography is stunning. Tenerife, the largest of the islands is the most popular with tourists and is home to Spain's tallest point and the third largest volcano in the world, Mount Teide. Fuerteventura offers tourists miles of golden sand beaches to spend the days on. All of the islands hold their own charm and culture, be it in entertainment and nightlife, stunning views, volcanic landscapes, or beautiful beaches. However you look at it, the Canary Islands are a great place to visit.
Spain is home to holiday rental apartments and villas. You can rent a private home much cheaper than hotels, come and go as you please, and venture out to enjoy what Spain is all about. Visit the small villages and mingle with the locals. The Spanish people are some of the most polite and helpful people in the world, all you have to do is make a little effort with the language! Saying Hola will get you a long way. So we'll have a guide for familiar things to say in Spanish so you can easily order a beer and of course a tapas.
Tapas (pronounced Tapa) is a small appetizer or snack. They may come with a drink as in rural Spain or in most cases a starter or combined to make a full meal. In any case, they are great as you can try a little bit of everything.
Well, that's a good start on what Spain is about. We know you will love reading, watching the videos we'll post, and all of the photos you'll see. So what are you waiting for, come on in and enjoy this fantastic country – Spain.
Thank you