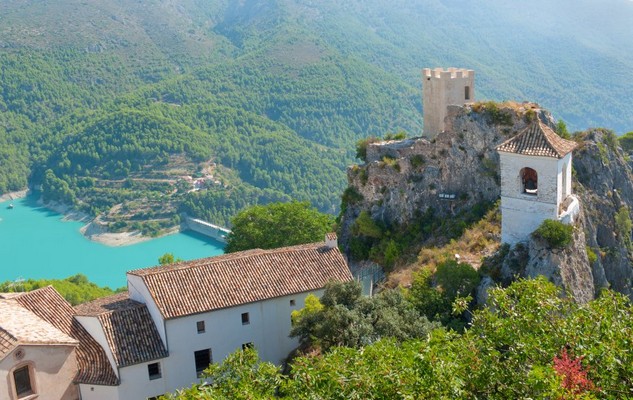 Nestled between the high mountain peaks in Alicante is a magical place called Guadalest Valley. Bursting with colour from the green trees and deep blue sea, this place is captivating and well worth a visit.
The white Spanish houses are sprinkled between the trees and the medieval castle towers over the town from its perch on a jagged rock. This little valley town is enthralled in magic and wonder. El Castell de Guadalest dates back to the 11th century and originally ruled over the people that lived in the Valley. When an earthquake struck in 1644 and during the War of the Spanish Succession in 1708, portions of the castle were destroyed, but the idyllic ruins still remain to this day.
Take a walk down the cobbled streets and stop to eat at the many restaurants and cafes located in the valley. These ancient-looking streets are incredible to experience and take lots of photographs. There are many local shops to explore selling all kinds of things, from dresses to artifacts and trinkets. As you walk further down the streets, there is an ancient dam dating back to the 1950s and still very much intact.
Guadalest Valley offers jaw-dropping views from everywhere within this quaint town and should not be missed when visiting Spain or the Alicante region. This is a perfect day out for the whole family and easy to reach from the Orihuela Costa. Sights like this are just one of the reasons tourist choose apartments for rent in Villamartin