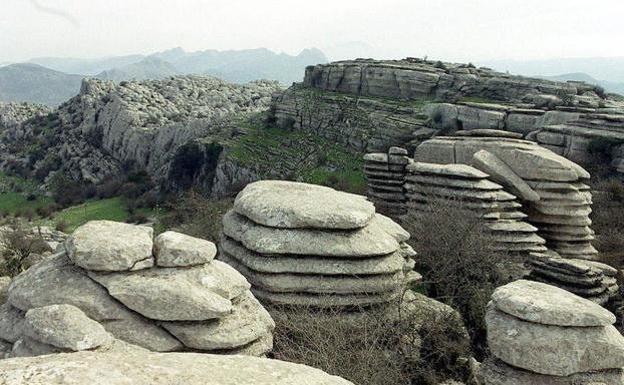 Málaga is such a fascinating city that has so much to offer in terms of history and stunning landscapes. None come more fascinating than El Torcal de Antequera that lies in the national park of Sierra del Torcal mountain range. Its jagged appearance and interesting landscape make this such a beautiful place to visit.
El Torcal de Antequera is known for being the most impressive karst, or rock formation, in Europe and consists of eccentrically eroded rock patterns made of limestone. It creates the illusion of a pre-historic city sitting on the top of the mountain peak. All of these rock formations are naturally formed by wind and water, creating big openings and tunnels through the rocks.
The limestone rocks are from the Jurassic age and change and reshape all of the time due to weather and water over time. A number of these stunning rock formations have been given everyday objects names depending on the shape they have taken on. Signposts are dotted all along the route from the car park located nearby and this beautiful place has information boards, mostly written in Spanish.
This is such a wonderful place to visit if you are in Malaga on your holiday. There is nothing else quite like it in the religion and it is a great place for the whole family to visit. El Torcal de Antequera is definitely something to add to the bucket list.