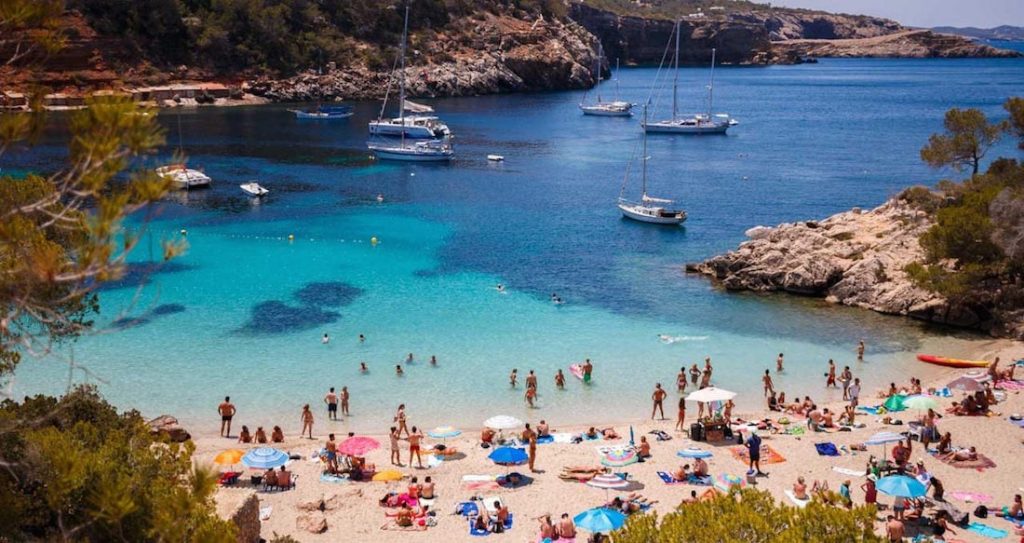 Looking for tranquillity and a stunningly natural beach when visiting Ibiza? Then look no further than Playa Cala Salada, with its turquoise blue waters and rocky, rugged terrain. Stretching 200 meters along the coastline, this beach is not to be missed.
Located just a 15-minute drive from San Antonio, this cove can sometimes be a little hard to get to. During the summer months, the road is closed between 9:30 and 17:30, allowing just a shuttle bus to head down to the beach. There is also a boat cruise that will drop you off at the cove which is easier than making the treacherous hike through the rocky terrain and pine forests that surround the area.
Make sure to get there early as this cove can get pretty busy in the summer months, attracting both locals and tourists to the beach. The water is shallow and calm, protected by the rocks and the little cove. This is a great place for families with young children as there is also a lifeguard during the daytime to keep the beach safe.

If you can, make your way down to this stunning beach to watch the sunrise or sunset if you have access to a car or taxi to take you there safely. The crystal clear waters are teeming with fish and wildlife, but beware of the jellyfish that sometimes float through the cove.
This is one of the best beaches in Ibiza because it is so pretty and natural and clean. Sure, it can get pretty busy in the summer months so if you want to avoid this, get to the cove early. This stunning gem is also accessible easily from other parts of Spain via the boat cruise, so don't miss out on visiting the best beach in Ibiza.