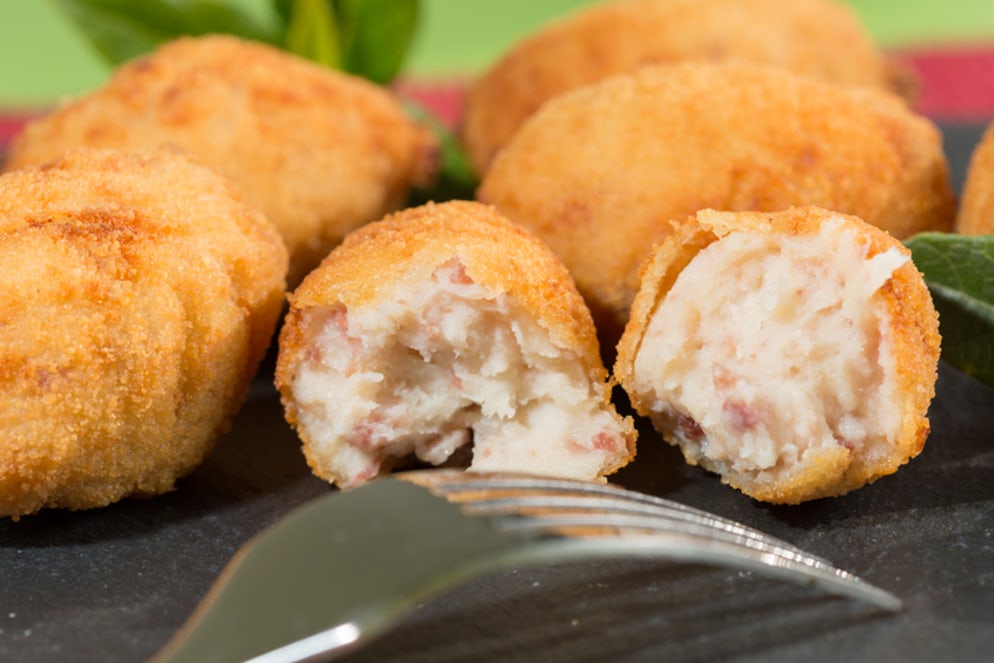 Ingredients
75g plain flour
2 large free-range eggs, beaten
75g dried breadcrumbs
sunflower oil, for frying
For the filling
4 tbsp extra virgin olive oil
½ small leek, diced as small as possible
70g jamón Ibérico or other air-dried ham, diced very small
60g plain flour
75ml ham stock or vegetable stock
325ml full-fat milk
freshly grated nutmeg
STEP 1
To make the filling, heat the olive oil in a pan until it starts to shimmer. Add the leek and sauté until soft but not coloured. Stir in the ham with a wooden spoon, fry for 1 min, then stir in the flour and fry over medium heat, stirring occasionally, until the mixture is golden but not burnt, this will take about 5 mins.
STEP 2
Meanwhile, combine the stock and milk in a small pan and heat until steaming but not boiling. Season with a few scrapes of nutmeg. Gradually add the liquid, a few tbsp at a time, stirring constantly.
STEP 3
Once you've incorporated all the milk stock, continue to cook the filling over medium heat for about 10 mins or until it thickens and leaves the sides of the pan when you stir it.
STEP 4
Season with black pepper, taste, and adjust the salt if necessary – the ham can be very salty to start with. The filling is now done: it has to be really thick because you don't want the croquetas to turn into pancakes.
STEP 5
Smooth the mixture onto a baking tray (30 x 20cm is fine). Once it has stopped steaming, cover it with cling film to stop it from drying out. Leave to cool before putting it in the fridge for 1 hr.
STEP 6
When you're ready for the next stage, line up three bowls: the first filled with flour, the second with beaten egg, and the third with breadcrumbs. Take the ham mixture out of the fridge. Put a little bit of olive oil on your hands to make it easier to roll the croquetas.
STEP 7
Roll a spoonful of the mixture between your palms. The size and shape of the croquetas are up to you, but the easiest is a walnut-sized ball. Then begin coating as follows.
STEP 8
Dunk the croquetas into the flour – you want a dusting – followed by the egg, then the breadcrumbs. Put them on a tray and, when you've used up all the mixture, place in the fridge for 30 mins.
STEP 9
If you have a deep-fat fryer, heat the oil to 180C and fry for a couple of mins. If not, heat the oil in a deep, heavy-bottomed saucepan until it starts to shimmer. Then add 5-6 croquetas at a time and fry until golden all over. Once cooked, drain on kitchen paper and eat straight away.
Croquetas are another tapas dish you can vary. Add chicken or even make them vegetarian. Add a few dips and whala you have a great addition to your tapas.