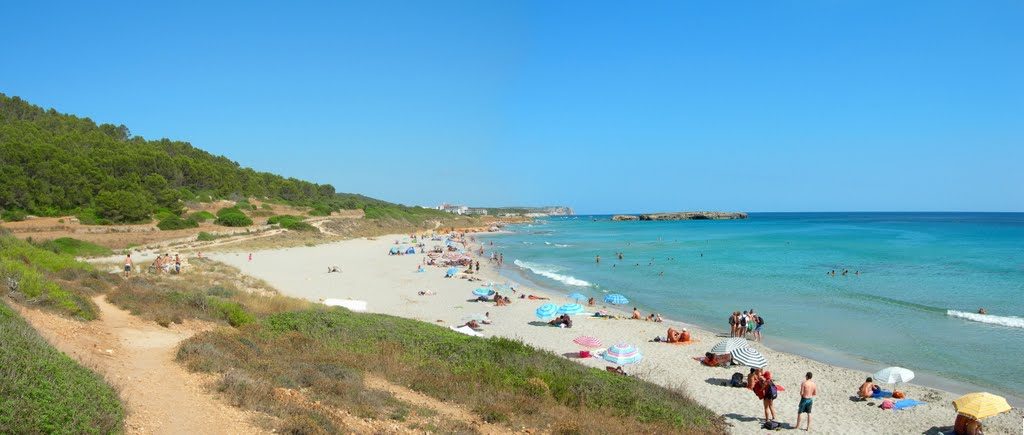 Menorca is known for its stunning white sandy beaches and beautiful scenery and none come more natural than Playa De Binigaus. It is a jaw-dropping natural beach surrounded by mountainous rock and small trees, with white sand sprawling out to meet the shimmering blue sea. If you are looking for a hidden natural gem when in Menorca, then this is the place you must visit.
You can reach this beach from the carpark at the back of a restaurant called Es Bruc and walk down the cliff path to get to the beach which takes around 10 minutes. Alternatively, you can follow the route from Es Migjorn Gran which leads you through a gorge and past the incredible Cova Des Coloms which are natural caves in the side of the mountains. This hike will probably take around an hour but is so worth it. And the best part is after your walk you can take a dip in the soothing blue sea and cool off.
Playa De Binigaus is also a haven for locals given its stunning beauty and is less off-the-beaten-track. Please do be aware that the Spanish are bolder when it comes to swimsuits and so some may choose to not wear one at all.
Take in the view from nature's own paradise and swap the noisy hustle-and-bustle of the big cities for a calm day in the sunshine by the sea. There are no facilities at this beach so please remember to bring your own food and drinks when you visit.